Check out the class schedule on the portal. If you are new, you can create an account through the parent portal link above.
Register online. If you know the class you are looking for, you can register online through the parent portal link above. Not sure which class? Give us a call and we can help!
Prorate into a class at anytime! Classes are continuous enrollment/monthly billing so you never have to worry about re-registering or saving your class as you will keep your class day/time and be billed monthly. Easy!
Need to move to a different day? No problem. Give us a call and we can find a class time that fits with your changing schedule.
Need to drop the class? No problem. All drop requests are due by the 15th of the month prior via email.
We offer 1 make up/month and these can be scheduled with the front desk.
For faster learning, take 2 classes a week. We offer sibling and multiple class discounts (10% off)

We encourage you to get into your preferred class day NOW as classes are filling fast.  Remember you can always move to a different day if your schedule changes with the new school (and cheer) year. 
Summer 2023
summer schedule for classes is the same as the school year with classes running M-F in the evenings and Saturday mornings. You can prorate in at anytime.
For June, July and August you get UNLIMITED MAKE UPS so you can still go on vacation and keep up your tumbling.
If you want to create a private class during the day in June/July/August, give us a call.  We have coaches who are available during the day and we can create a tumbling, trampoline or even cheer class for you and your friends. 
Summer camps are listed under CAMPS on our parent portal.  
Register for any of the camps or clinics by April 15th and receive our Early Bird rates which will automatically be applied in your cart upon checkout. 
Tumble Academy Camps are week long camps, 2 hours each day full of tumbling!  These are skill-based camps where you can come in for 10 hours in one week and work your back handspring, tucks, layouts,etc. to really advanced those skills. Beginners and advanced tumblers can come into same camps and we will separate by ability with different coaches. These are great for ages 7+
For ages 4-8 we have our Tumble Stars day camps which run M- F 9am - 12pm and are your traditional recreational camps with lots of trampoline, tumbling, games, obstacle courses, crafts and time in the foam pit! No experience necessary. 
Check out the ever popular 1 day Cheer-Tastic clinics we do on Fridays in the summer for ages 5-10.  Cheers, dance, motions, learn a routine and cheer craft. 
NEW this summer- Tiny Cheer-Tastic clinics for our 3-6 year olds. Right now on Tuesday mornings.
Recreational Cheer Teams...do you know we do stunt camps and choreography for rec teams ALL SUMMER AND FALL? Come in for a clean up camp or our coaches can teach you new stunts to add difficulty to your routines and much more.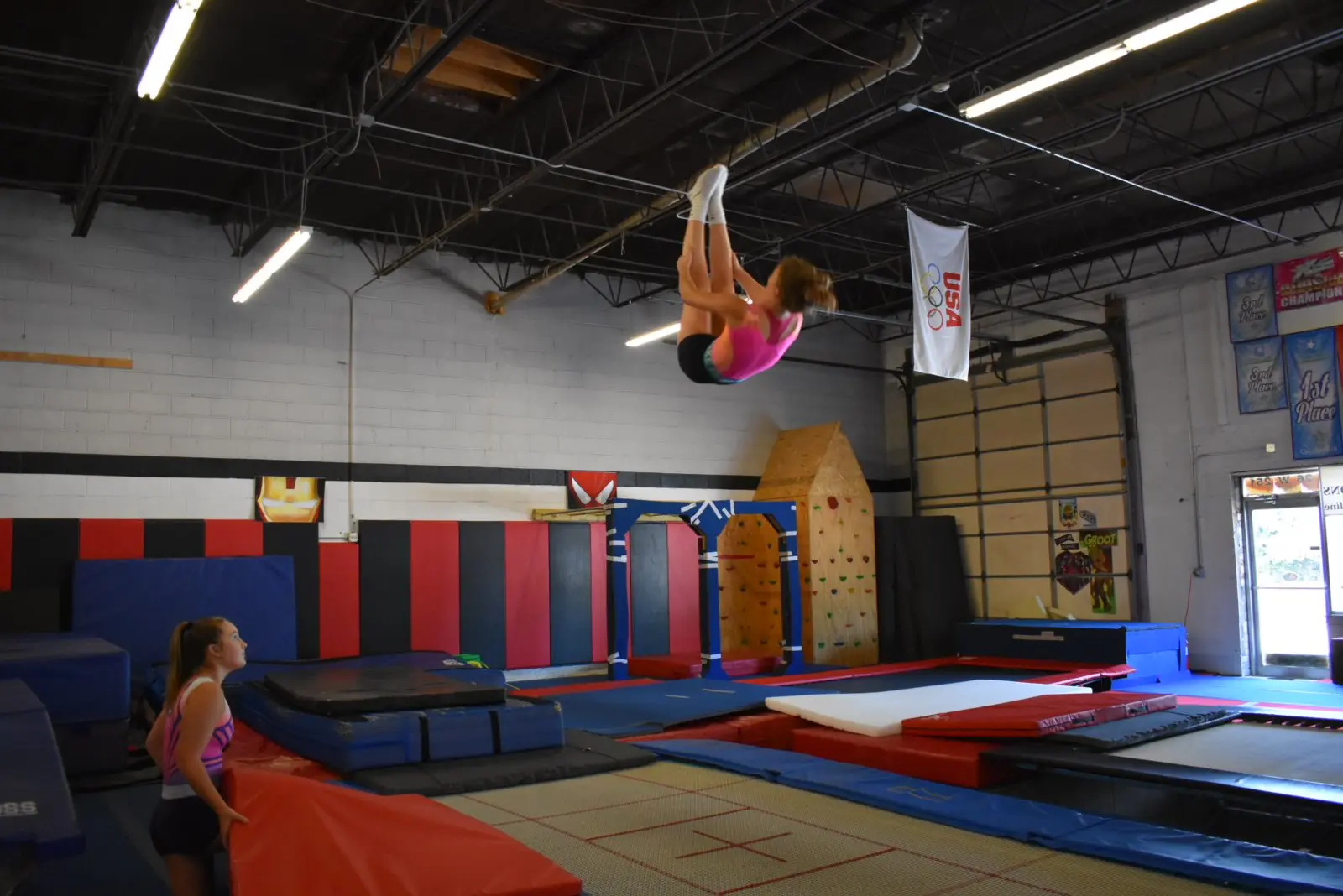 We are here to complement your cheer program. For those cheerleaders who can't get enough of cheer, want to experience all-star cheer, or push themselves further in the sport they love.
Do you love to flip, twist, jump, bounce, and tumble? Consider taking a TNT class or joining our competitive tumbling and trampoline team.